Favors are commonplace in any party today. These return gifts are presented to guests as a token of love and appreciation for having made it to the party, and spending time contributing to the wonderful and memorable moments. Favors given out at a party can be anything depending on the host and the kind of gathering that it involves. however, of late, handmade party favors have gained a new-found interest among party hosts for a number of reasons. Here is a look at some top reasons that make handmade gifts so popular among the givers and recipients.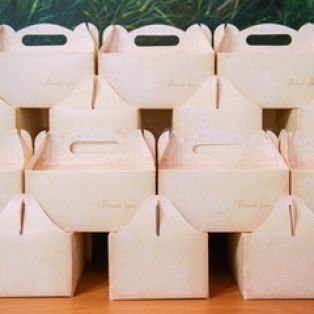 # 1 – Suitable for gifting on any occasion
Handmade party favors aren't just for simple and homely parties. They can even be given out at grand, and elaborate events as a gesture of gratitude and appreciation. From birthday parties that involve tiny tots to wedding celebrations, bachelor and bachelorette parties, team celebrations, milestone events, and many more, any party can give out a handmade favor elegantly. A simple, handmade goodie box with the cookie can translate into a vintage tea cup filled with succulents at a wedding. This could even be a gift shopping card hand wrapped with handmade paper when given out at a gathering that involves people on a team or from the workplace. None of these gifts by any means, is any less valuable than a readymade party favor. In fact, a handmade favor has a more one-on-one touch, and is of immense value to the receiver in most cases.
# 2 – A touch of personalization can be added
Party favors when bought off shelves or stores in bulk, look the same and lack a personal touch. However, when made with bare hands, such gift items have immense potential to be crafted according to the taste of the maker, and to match that of the receiver. In fact, you can customize each and every party favor in a different way to suit its receiver. For instance, you can simply add a unique number and name, or even the initials of the person who will receive the favor at the end of the party. Imagine the fun and joy of receiving such a gift that includes your name!
# 3 – A good way to unleash your creativity
If you are the creative kind, or someone who loves to do-it-yourself stuff, then handmade party favors are definitely something you should try out. With a whole range of images, blogs, and video tutorials available out there in the web, you have literally a million choices to experiment with. Beginners can try their hands at simple paper folding techniques or gift wrapping ideas. The more experienced ones can try their hands on tedious and intricate stuff that involve cutting, sculpting, drawing, painting, and other handiwork. Such creative handmade party favors often attract the guest's attention, and fetch appreciation from multiple quarters.
# 4 – No minimums or maximums
The trouble with picking readymade party favors of the same kind, especially in large quantities, is that you have to place an order up front for a certain minimum quantity. This may be a sensible idea when your party involves a larger group of people. However, when the crowd in smaller and your minimums are higher, readymade party favors can end up being an expensive option that burns a hole in your pocket. Handmade party favors come to your rescue in such situations. Even if you didn't want to create them yourself, you could place an order with someone who makes them; at much smaller quantities than what you would buy off a regular store. With an extensive option to customize, you also get to play around with your budget and cut down on expensive and lavish details when you don't want to.
Handmade party favors are indeed a versatile option for those looking to gift guests with something useful, memorable, unique, and creative. Not only are they pocket friendly, but you also get to impress guests and thank them in a meaningful way.