Often, but not always, fathers are the anonymous heroes of our lives. They form one of the strongest pillars of our society which cannot be done by anyone. So, in the coming father's day, why not present the most important man of your life with one of a kind gift like watch winder. In fact, in recent times, watch winders have emerged as an exclusive gift for celebrations like weddings, anniversaries or business achievements, etc. So, if you know that your dearest one wears an automatic wristwatch of a global brand, presenting him with a watch winding device should be exactly the gift you're looking for. Now let's see what makes the auto winder an exclusive gift for special occasions.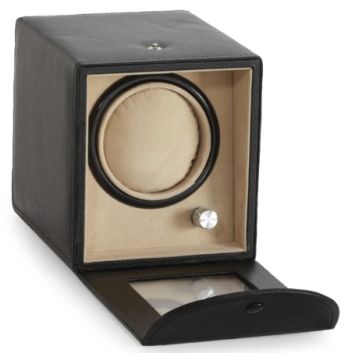 What is a Watch Winder?
A watch winder is an avant-garde device which can be used to make your automatic watch continue to run, when not being worn. You must be aware of the fact that an automatic watch winds on its own by means of a moving weight built-in the watch, and the weight swings or revolves whilst the watch is worn. While walking, as you move your arms, it senses the movement of your wrist and its winding mechanism and keeps it operational. Sadly, however, whereas the watch has not been worn for a few days and no longer senses the power of motion, it eventually stops running absolutely.
Considering this inconvenience of watch wearers, global class watchmakers have introduced the most appreciated watch winders. Simply by keeping your automatic watch in the winder box, you can make it functioning and boost their longevity since the mechanism of a winder replicates the sense of our moving wrists when they're not worn by us. It is worth mentioning that our auto watches can never be overwound by a watch winder given that, the watches include a specific mainspring which can never reach its end. Most winders operate on a timer. The mechanism keeps them operating for a couple of minutes, then relax for a bit and once again restart their motion. In other words, winders don't run constantly as your wristwatch doesn't require continuous winding.
What makes them exclusive gifts?
Importantly we should know that automatic watches are outfitted with a self-winding mechanism. They are basically termed 'automatic' since they don't require you to wind them manually. They are designed to self-wind while counting the regular movement of our wrists and automatically stops if they're not worn for a longer period. This led to the discovery of the watch winder, which reproduces the typical motion of our moving wrists. Thus once the watch is placed inside the watch storage box, its performance remains intact until the next time we wear it.
It is exceptional and extraordinary
You can find hardly anyone who considers presenting someone a gift like an automatic watch winder. Whereas presentation of the latest gadgets has been quite popular in our society, if you like to present something special an exceptional and extraordinary gift, among a handful of offerings, one that can make you ever remembered is a watch winder.
It's ideally for someone who is a gadget enthusiast
As we find profuse gadgets surrounding us today, many of them are often overstated solutions to a simple problem. No wonder, often, we feel disappointed to realize that it consumes less time to do the same work manually. However, an automatic watch winder is always considered simple, effective and an ultimate solution to keep automatic self-winder watches in functional condition.
They are born to perform a crucial role
Put simply, wearing the globally distinguished watches like Rolex, Cartier are not only a style statement, but they are invaluable and require absolute care of its owner. For a well-heeled business personality or celebrity owning more than one of these quality, watches is very much expected. However, under any circumstances, they simply cannot wear more than one of them in their daily life. And, this is where the necessity of a watch winder happens to be vital to keep the mechanism of such watches functional when they are not worn.
Range and affordability
When it comes to the question of affordability, we know great watches are not cheap. However, we won't feel anything odd to receive such a costly watch as a very special gift item that makes it a treasured and most cherished in our life. This is where; an automatic watch winder makes it a great gift item.