You already know it: diamond earrings can be the perfect gift to make any special occasion even more memorable.
But if you need convincing, here are some reasons why diamond earrings can be truly the most cherished gift you can give to a loved one.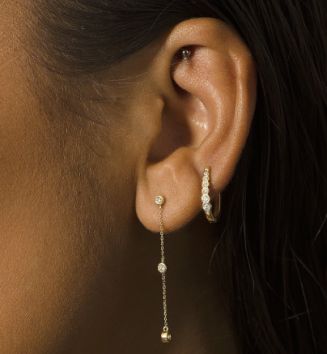 Timeless
What better gift for a special someone than timeless diamonds! When it comes to diamond earrings, you don't need to wait for your engagement or wedding to gift it your partner (like for the engagement ring or the wedding band). You can gift diamond earrings to your partner to celebrate any happy occasion.
The wedding and engagement rings for women are expected jewelry items. But diamond earrings can be the perfect gift to mark birthdays, anniversaries, or any other special occasion in you and your partner's life.
Diamond jewelry is never out of fashion. Even trendy diamond earring designs won't look outdated ever. That's the beauty of diamond jewelry. You can wear it day and night, anytime and anywhere. You can wear it with any outfit – be it casual dressing, office formals, or evening attires.
Impeccable Choice for the Women in your Life
OK, don't fret! There is no suspicion hidden in the above statement. The fact is that diamond earrings are not only perfect gifts for your wife or girlfriend; but also for your mother, daughter, and sister.
Yes, you can find diamond earrings to suit women in any age group. Diamond hoops in yellow or white gold can be perfect for your girlfriend or fiancée. They signify fun, look stylish, and can be worn on different occasions. Diamond drop earrings are a splendid choice for your wife or partner. Studs are ideal for gifting to your partner on a special anniversary.
Studs in a more classic shape or pattern are so perfect for gifting to your mother on a very special birthday. Smaller hoops or studs are perfect to gift to your daughter on her college graduation day. You can even gift them your daughter for landing her dream job or something to cherish as her special wedding gift.
Not Restricted by Designs
Let's face it: when it comes to wedding bands and engagement rings, there are only a few cuts and styles that look great. There is also a certain expectation attached to how a wedding band or an engagement ring must look like.
But when it comes to diamond earrings, any style or design can look fabulous and make the receiver happy with the gift. Who wouldn't like a gorgeous pair of diamond studs or hoops?
There won't be anything to complain about; in terms of the carat or the pattern. There are no set expectations when it comes to diamond earrings except that they look stunning! Any gift consisting of diamond earrings is sure to lighten up the receiver's face with a gorgeous smile matching the precious stones.
No Ruined Surprises
Your surprise won't get ruined just because the earrings didn't fit! Unlike rings or bracelets, there are no such hassles when it comes to earrings. Imagine the look on your partner's face when the ring or the bracelet you bought her as a surprise gift doesn't fit. Not only will it ruin the surprise, but it might also lead to an argument as to how come you don't know her perfect ring or wrist size!
Well, when it comes to earrings, there are no such issues. So, your diamond earring surprise will be just as you envisioned it to be – making your partner immensely happy.
Suits Every Budget
You can find a lovely pair of diamond earrings to suit your budget. You needn't restrict yourself from gifting your partner with diamond earrings just because you can't afford it. Depending on the design, the size of the diamonds, the base metal, and the retailer, you can easily buy the perfect diamond earrings for gifting purposes.
You can shop online from retailers selling jewelry without markups to reduce the rates even further. Online retailers do not need to take into account the costs of the storefront or the commissions. So, it reflects in the costs of their inventory. So, next time you wish to surprise your partner with the perfect gift – you know what to buy!