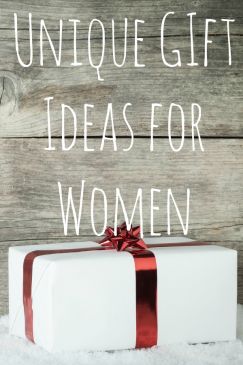 It may be some trouble; it may be a little bit intimidating, but it will be worth it in the end. There is an art to giving gifts, but it is something we can all learn, and succeed at. The trick is to think about the gift, think about the woman, and plan ahead to get the perfect gift. Why is it trouble? The time for planning and thinking ahead and giving time to go out and buy the gift can be more than you think you can afford. As well, if gift giving is stressful for you, it can be intimidating to think about what she would like, if she will like it, and if she will think badly of you if she doesn't like it. To help relieve you of the time, the stress and the intimidation, here are some tips on choosing unique gifts for women that she will love.
What is your relationship to her?
There are probably a lot of women in your life whom you buy gifts for. There is your wife, of course, your mother, your daughter, and your sister. Perhaps there is also someone at work, or your child's teacher. You have different levels of intimacy with each one, so the gift choice would be different. Your wife would love a fabulous piece of jewelry, but that's not appropriate for a colleague or a teacher. For them, consider a book, or some chocolate or another type of food or drink.
Think about her interests
Well, this seems obvious, but it's actually harder than it looks, and it comes into the planning stage. What does she enjoy? Does she like to cook? Buy her something for the kitchen, paired with a cookbook or some utensils. Does she love coffee or tea? A mug filled with some specialty tea bags or coffee samples might do. Does she like travel, language study, or photography? Does she like to read? A book makes a great present, and it can be focused on the things she enjoys. A photography book is a beautiful work of art, and a bit pricey to buy for yourself. The latest bestseller is another great idea. Chances are, she is dying to take the time to read something thrilling.
Buy something luxurious
Luxury is something that most women feel guilty about spending their own money on. The trick to buying her something luxurious is to look at the things she enjoys, and to buy something similar at a high end price. For instance, a cashmere (en.wikipedia.org/wiki/Cashmere_wool) top or pair of socks, some top quality chocolate truffles, or a designer wallet. In this area, jewelry is a good choice for something lovely and luxurious.
Give her some time
You know how valuable a little extra time can be. Along with the gifts for her, why not give her some time to enjoy it? Part of the gift can be a few free hours on Saturday. That means you ferry the kids to dance class, and you cook dinner. Let her have some time to relax and think about how much you care for her.
If you run out of time
If you haven't managed to find the time to plan, and think about what she wants, then there is help for you. Peruse the internet for some quick and easy gift suggestions—or check out some of the online gift giving sites that can set you up with gift suggestions that she is sure to love; you just have to choose from their selection on the website. Some sites even offer free shipping, or express shipping (in case you've left it a little too close to the last minute).
When in doubt, chocolates, books, and jewelry are gifts that are never unappreciated—but make sure you put a little thought into this. If she's a health nut, maybe swap out the chocolates for a gift certificate to her favorite smoothie shop; if she's politically active, make sure you find high quality, fair trade chocolate; if she likes to read, find out what kinds of books she's into (the girl who can't get enough of the classics probably won't appreciate the old stand-by harlequin—and vice versa); and if you are going to get her a piece of jewelry, make sure it's high quality and made from materials (and colors) she is actually going to wear. It might take a bit of extra thought, but finding the perfect gifts for the women in your life is completely worth the effort.